Pertama kali mengenal platform Ghost itu sekitar tahun 2014-an. Waktu itu saya sedang mencari tutorial di google dan 'tersesat'-lah saya di blog Coding Horror.
Lalu saya berpikir "kok simple sih?", ternyata eh ternyata web tersebut menggunakan platform Ghost.
Sempat ingin langsung beralih ke platform Ghost, tapi waktu itu saya masih belum mempunyai VPS (Virtual Private Server). Sampai akhirnya ketika saya memutuskan untuk menyewa VPS di Digital Ocean, hasrat untuk beralih ke platform Ghost kembali muncul.
3 hal utama yang paling saya suka dari platform Ghost:
Markdown
Markdown adalah sintaks format teks bagi penulis. Berbeda dengan HTML, markdown lebih simpel digunakan. Tidak memiliki banyak tag untuk formatting, hanya dengan menambahkan beberapa karakter, tulisan kita akan menjadi indah.
Contoh penulisan menggunakan Markdown:
Headings
# Heading 1
## Heading 2
### Heading 3
Text
*italic*
**bold**
***bold-italic***
[link](http://example.com)
Images
![When you use markdown](https://i.imgflip.com/1mhe74.jpg)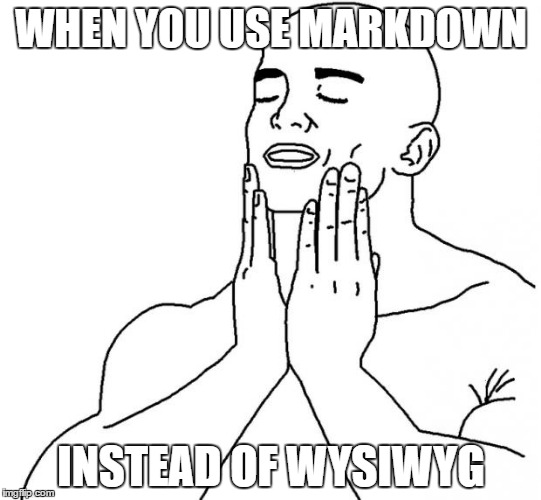 Read more about Markdown here.
---
SEO & Social Sharing Friendly
Building a website without SEO is like building a road without direction.
'Googling' kini sudah menjadi trend yang sangat populer dikalangan umat manusia. Maka dari itu, memiliki website yang SEO friendly itu sangatlah penting. Agar apa? agar website kita muncul di hasil pencarian Google!
Selain SEO, platform Ghost juga sangat friendly untuk Social Media.
There are built-in XML sitemaps, Google AMP pages, canonical tags, optimised URLs, microformats, Facebook Open Graph tags, support for Twitter cards and clean semantic markup. All of this is done for you automatically, with no plugins needed.
---
Faster
Platform Ghost lebih cepat karena didukung oleh teknologi yang modern yaitu Node.js.

Independent tests have found Ghost to be up to 1,900% faster than WordPress. What does that mean? In the amount of time it takes WordPress to respond to 1 request, Ghost will have already responded to 19 of them. The speed of your blog impacts everything, from search engine rankings to mobile user engagement.
Source: Meet Ghost
---
Conclusion
Ghost fokus kepada satu hal yaitu Content Publishing.
Itulah yang membuat mengapa Ghost Platform menggunakan Markdown yang lebih simple dibandingkan dengan WYSIWYG, dibuat se-SEO & Social Sharing Friendly-mungkin dan Faster than other platforms.
What's the point in publishing if nobody reads your content? - Meet Ghost
Jika kamu sangat tertarik pada hal-hal diatas, sebaiknya kamu mulai beralih ke Platform Ghost.